There are three versions of this product available - choose between:
SKU: 435-0006-03: FLIR ONE PRO for iOS (iPhone)
SKU: 435-0007-03: FLIR ONE PRO for Android with USB-C Connector
SKU: 435-0011-03: FLIR ONE PRO for Android with Micro-USB Connector
Turn your smartphone into a powerful thermal camera with the FLIR ONE PRO!
Available for both iOS and Android platforms, simply plug the PRO into your phone, run the FLIR ONE app and start seeing the world in high quality thermal!
This is the upgraded version of the standard FLIR ONE with enhanced thermal resolution and a number of other benefits.
Features include:
Exclusive FLIR VividIR Image Processing - FLIR's most advanced image resolution and processing techniques enhance your thermal findings, helping you find problems faster and work more efficiently
Excellent Thermal Resolution of 160 x 120 Pixels - with twice the resolution of the standard FLIR ONE, the PRO produces better quality images and can also measure temperatures as high as 400°C
FLIR MSX Enabled - this mode embosses visible edges from the FLIR ONE PRO's built-in 1440 x 1080 HD visible light camera onto thermal images, creating sharper, easier-to-understand pictures with clearly defined edges and detail
Take a look for yourself the difference the PRO makes in these comparison images, taken with the standard FLIR ONE and the FLIR ONE PRO: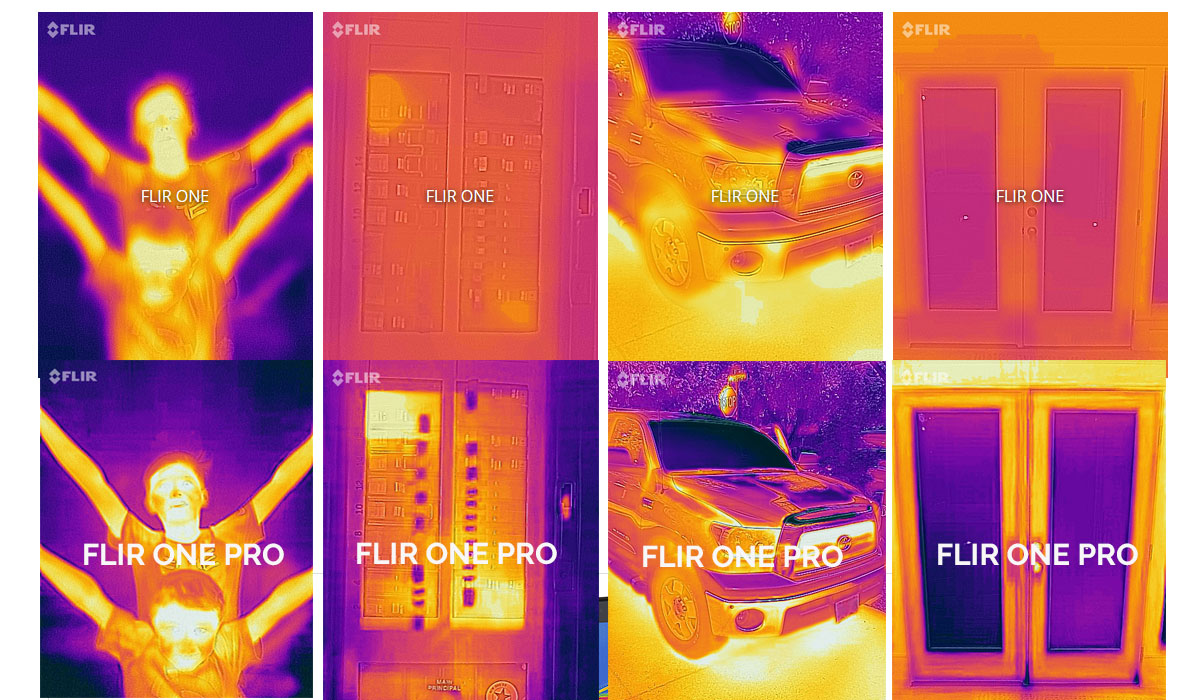 FLIR ONE and FLIR ONE PRO Comparison
Want to know what's different between the standard ONE and the PRO version? Take a look at the comparison chart below:
| Feature | FLIR ONE PRO | FLIR ONE |
| --- | --- | --- |
| MSX Visual and Thermal Image Blending | ✔ | ✔ |
| VividIR Image Processing | ✔ | ✖ |
| Thermal Only Mode | ✔ | ✖ |
| Visible Only Mode | ✔ | ✖ |
| Video, Photo and Time-Lapse Modes | ✔ | ✔ |
| Swipe To See Visible Image Mode | ✔ | ✔ |
| MSX Distance (Alignment) | ✔ | ✔ |
| Thermal Colour Palettes | 9 | 9 |
| High/Low Gain Mode | ✔ | ✖ |
| IR Scale (Displayed on Image, Adjustable Range) | ✔ | ✖ |
| Spot Meters (Max) | 3 (movable) | 1 (fixed) |
| Rectangular Region of Interest (max) | 3 (movable) | ✖ |
| Circular Region of Interest (max) | 3 (movable) | ✖ |
| Timer | ✔ | ✔ |
| Manual Flat Field Correction | ✔ | ✔ |
| Emissivity Settings | 4 | 4 |
Compatibility
At the time of writing the below tables of compatible iOS and Android products were correct. For more up-to-date information please see Flir's Compatibility web page, accessible via this link.
*Please note that new Samsung phones, such as the S8 are supplied with adaptors which are not OTG enabled. Therefore you will need a separate adaptor with OTG (On The Go) capability in order to connect this Thermal Camera to your device.
iOS
Model
Comments
iPhone SE
Accessory has been designed to connect specifically to these models, and has been certified by the developer to meet Apple performance standards. Apple is not responsible for the operation of this device or its compliance with safety and regulatory standards. Please note that the use of this accessory with iPod, iPhone, or iPad may affect wireless performance.
iPhone 7/ iPhone 7 Plus
iPhone 6 / iPhone 6 Plus
iPad / iPad Mini
Android
Model
Comments
Google Pixel

To be compatible with FLIR ONE, a device must meet the minimum requirements and appear on the list below as a compatible device.

Minimum Requirements:

At least Android Version 5.0.0
GPS, Location, OTG USB, Flashlight, and Microphone Capabilities
For Panorama functionality: Gyroscope and Accelerometer Capabilities
GPS, Location, Microphone, and Flashlight Permissions

Google Pixel XL
Google Nexus 6P
Samsung Galaxy S8
Samsung Galaxy S8+
Samsung Galaxy A5


*** The current FLIR ONE Pro firmware incorrectly reports the battery charge as ~88% when the battery is fully charged. The incorrect percentage the app reports does not affect the actual battery life of the device. There is nothing wrong with the physical battery and it is fully charged even though the display may indicate less than 100%. In the next few weeks, FLIR will release an over the air firmware update to all users. Like other common devices in use today, users will receive a message in the FLIR ONE app to upgrade their FLIR ONE Pro firmware through the app and a correction will be applied. In the meantime, please use the FLIR ONE Pro with confidence that it is receiving a full battery charge.***
Need more information? Find it in the full technical specification and reviews.
Select Lens

24° Lens

Sensitivity

The FLIR ONE PRO Smartphone Thermal Camera for Android & iOS (3rd Gen) has a thermal sensitivity of 30mK NETD. A lower mK value means a more accurate thermal camera.
FLIR ONE PRO Technical Specifications
General Specifications
Certifications
MFi (iOS version), RoHS, CE/FCC, CEC-BC, EN61233
Operating Temperature
0 to 35°C (32 to 95°F)
Battery charging 0 to 30°C (32 to 86°F)
Non-Operating Temperature
-20 to 60°C (-4 to 140°F)
Size
68 x 34 x 14mm (W x H x D)
Weight
36.5g
Mechanical Shock
Drop from 1.8m (5.9ft)
Video
Types of Camera
Thermal and visual with MSX
Thermal Sensor
Pixel Size 12μm
8 to 14μm spectral range
Thermal Resolution
160 x 120 pixels
Visual Resolution
1440 x 1080
Horizontal Field of View
55° ┴1°
Vertical Field of View
43° ±1°
Frame Rate
8.7Hz
Focus
Fixed 15cm to infinity
Radiometry
Scene Dynamic Range
-20 to 400°C (-4 to 752°F)
Accuracy
±3°C (5.4°F) typical percent of the difference between ambient and scene temperature. Applicable 60s after startup when the unit is within 15 to 35°C (59 to 95°F) and the scene is within 5 to 120°C (41 to 248°F)
Thermal Sensitivity (MRTD)
150mK
Emissivity Settings
Matte: 95%
Semi-Matte: 80%
Semi-Glossy: 60%
Glossy: 30%
Reflected background temperature is 22°C (72°F)
Shutter
Automatic/manual
Power
Battery Life
Approx 1 hour
Battery Charge Time
40 minutes
Interfaces
Video
Male Lightning (iOS), Male USB-C (Android)
Charging
Female USB-C (5V/1A)
App
Video and Still Image Display/Capture
Saved as 1440 x 1080
File Formats
Photo - radiometric JPEG
Video - MPEG-4 (file format MOV (iOS)), MP4 (Android)
Capture Modes
Video, photo, time lapse
Palettes
Grey (white hot), hottest, coldest, iron, rainbow, contrast, arctic, lava and wheel
Spot Meter
Off, °C, °F
Resolution 0.1°C/0.1°F
Adjustable MSX Distance
0.3m - infinity
Battery Charge Monitor
0 to 100%
Why not leave a review for the FLIR ONE PRO Smartphone Thermal Camera for Android & iOS (3rd Gen)?
Great quality reviews both help out fellow customers and help us to improve the service we give to you, so we'd really appreciate you taking the time to leave your thoughts on this item.
FLIR ONE PRO'S AMAZING!!
Review by
Matt


After buying the Flir One Pro last week I am very happy with it's performance. I bought it primarily for use for ghost hunting as they seem to be a very popular tool for ghost hunting and belonging to a local paranormal group it will get a lot of use. Used it around the house and the results have been superb. I want to say thanks to the staff members at PASS for there first class service and very helpful and friendly staff. Matt K. Torquay UK (Posted on 3 April 2018)

---