"Red Dot: Best of the Best"
The `Red Dot Award Product Design' originates back to 1955; it appraises the best products created every year. The Red Dot Award has 48 competition categories into which manufacturers and designers can enter their innovations.
The jury, which is made up of 40 international experts, evaluates the entries "in search of good design and innovation" and only award a Red Dot to products that win them over with their high-quality designs.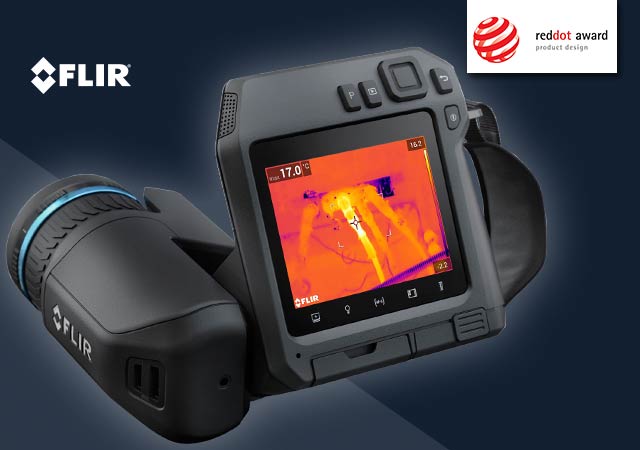 FLIR products have won the award in two consecutive years. This year the T500-series joins the FLIR Exx-Series as an outstanding professional tool. The FLIR T500-series incorporates excellent ergonomics and a high-performance thermal camera. In addition to its design excellence, the T500-series also includes a wide range of advanced features.
What are the main features of this AWARD winning camera?
Enhanced Thermal Resolution of 464 x 348 Pixels
Highly Sensitive Thermal Detector
FLIR UltraMax Image Processing
FLIR MSX Enabled
What makes its design so outstanding?
180° Rotating Optical Block
High-quality, 4-inch Touchscreen
Field-swappable, Auto-calibrating Lenses
Laser-assisted Autofocusing
What are the powerful analytical tools of FLIR T540?
Two Buttons for the Commonly Used Features
Wi-Fi Streaming
Built-in Reporting
Precise Documentation
User-selectable Colour Palettes
Radiometric Streaming/Recording
Now the FLIR T540 Thermal Camera comes in a Bundle with free training, software, and a test equipment device. Read more about the Offer here!
Please, if you have any questions, don`t hesitate to contact us on 0845 365 3938 or send an email to info@pass-thermal.co.uk.