If you are looking to update your current thermal imaging camera then why not trade-in your old model for a newer or upgraded model?
PASS Ltd are offering you up to 20% off the purchase of a new thermal imaging camera when you trade-in your old one.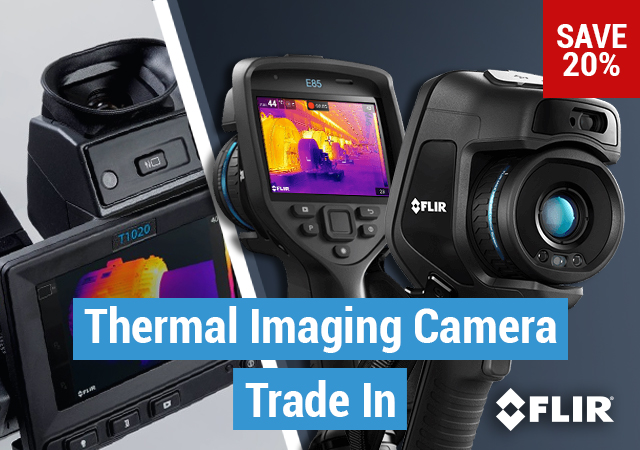 The trade-in allows you to trade any thermal imaging camera from any manufacturer, no matter how old it is, or what the condition. If your trade-in camera has a resolution of 160x120 or above then you will receive 20% off the price of your new thermal camera. For models with lower resolutions, you can get a 15% discount.
Take a look at some of the new and higher specification cameras you could use your trade-in on:
Also included are the NEW FLIR E53 and the T1030
Here are some examples of lower resolution cameras that you could trade-in:
1st Generation or Second Generation FLIR ONE
FLIR C2
FLIRi7
FLIR i3
FLIR i5
InfracamSD
Trade-in one of the above and get 15% off. For Cameras with Higher Resolutions get 20% Off.
For more information or to trade in your thermal imaging camera contact our sales team on 01642 626 142. Terms and Conditions Apply*
How to Redeem the Trade-In Discount and Terms and Conditions

1. Call our Sales Team on 01642 626 142 or email info@pass.co.uk and request a "Thermal Imaging Camera Trade-In". We will then send you a Trade-In form.
2. Fill out the Trade-In form and return it with your used Thermal Imaging Camera and the battery and/or charger to: David Atkins Sales Manager PASS Limited 1 Wilson Street Thornaby TS17 7AR
3. We will confirm receipt of your camera and give you your discount value based on the resolution of the camera that you are trading in. For example, if the resolution is 160x120 or above you will receive 20% off models FLIR E6 with WiFi, FLIR E75, FLIR E85, FLIR E95, T540, T600, T620 T640, T660, T1020. If your Camera is a lower resolution than 160x120 then you will receive 15% off the models listed above.
4. You choose which Flir Thermal Imaging Camera that you would like to purchase from the list provided. The order will be processed and you will pay the quoted amount with your discount applied. Upon payment, your brand new thermal imaging camera will be dispatched to your address.
Terms and Conditions
1. This offer cannot be used in conjunction with any other offers.
2. Offer includes any make, any model, any age thermal imaging camera.
3. PASS Ltd reserve the right to refuse or withdraw the offer at any time.
4. No cash alternative is available.
5. PASS Ltd can't be held responsible for injury, loss, damage or negligence as a result of participating in the promotion.
6. Offer ends: 31st March 2018.
.is-blog table td {padding-bottom: 50px;}.is-blog table td a img {display: block; margin-bottom: 10px;}.is-blog table td a {text-decoration: none;}